Remodeling
Services
exterior remodeling Connecticut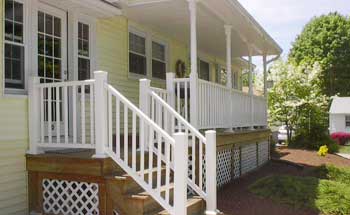 The outside of your house is the first glimpse of your home you or a guest may have. So, while you want it to be aesthetically pleasing and well landscaped, you might not be thinking about the other aspects the exterior part of your house presents.
Do you have vinyl siding or wood paneling? Are your windows single or double paned, and how old are they? Does your deck or porch bow or sag? Is there any insulation exposed?
Wyeth Woodworking and Remodeling assesses your home remodeling project from every angle and approaches every facet with care and concern. While curb appeal is important, safety and efficiency can save you money and make your home last longer.
Wyeth Woodworking and Remodeling will design and build your screened porch, deck or outdoor kitchen, replace your windows and screens, build better functioning and insulated doors, and replace and reinstall roofs and siding.